Commercial Plumbing and Heating Services
Jack Edmondson, Inc. has logged many hours in Philadelphia's commercial buildings and is fully trained to handle the various challenges that come with large spaces and complicated systems. We have provided commercial plumbing and heating service to some of the largest University dormitory buildings and some of the oldest condominiums in the city.  
Philadelphia Parks and Recreation Rebuild Program has revamped over 20 playgrounds and recreation centers in the City of Philadelphia with more to come. We have experience working with the Philadelphia Water Department and prime contractors by providing new plumbing and drainage systems for several spray grounds renovations.
Our commercial plumbing services include, but are not limited to:
High pressure jetting
Dye testing
Drain cleaning
Camera inspection with DVD
Trace and locate any line underground
Water heater repair and installation
Copper pipe installation and repiping
Certified testing and installation of backflow preventers
Philadelphia Rebuild spray ground plumbing and drainage
Introducing the DRAIN CLEANING POWER of the JET-SET TYPHOON. With 2500 PSI, this powerful machine blasts 12 gallons of water per minute to clear ANY drain line of grease, sediment or debris. Ideal for commercial or residential drain lines big or small.
Call 215-427-3228 today to schedule your drain cleaning.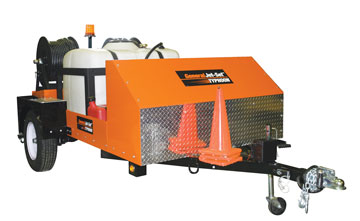 Contact Us for a Quote or Bid
Call today to schedule preventative maintenance drain cleaning to keep those pipes running smooth. No costs up front, just a friendly reminder to schedule a drain cleaning when the time is due.
Check out our latest plumbing, heating and cooling posts. Learn about options, common repairs, installation and savings!

As per the Philadelphia License and Inspections Demolition Permit Requirements a plumbing permit for a LATERAL SEAL is required prior …

Did you receive a Notice of Defect when you got home from work today? I am sorry. We are here …

Call today to get on our schedule for backflow prevention testing. Once a year, the Philadelphia Water Department will send …