Our drain cleaning services are for those hard to open drain lines after the plunger has had its chance. We offer camera inspections of your drain line so you can see what is blocking your line and we offer DVD services if requested. We also have our state of the art high pressure jetting machine that can blast your lines clear of grease, sediment or debris. Our drain cleaning technicians are trained and well versed in the world of cleaning drains and make it their priority to get you back to normal in the shortest time possible…no hassle, no sales pitches, no pressure.
Camera Inspection with DVD
Cable Machine ANY line
Trace and Locate ANY line underground
High Pressure Water Jet
Upfront pricing policy ensures you will not receive any unexpected charges.
Introducing the DRAIN CLEANING POWER of the JET-SET TYPHOON. With 2500 PSI, this powerful machine blasts 12 gallons of water per minute to clear ANY drain line of grease, sediment or debris. Ideal for commercial or residential drain lines big or small.
Call 215-427-3228 today to schedule your drain cleaning.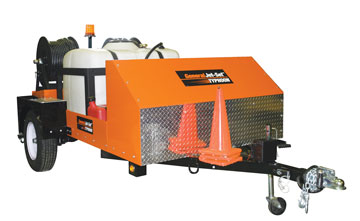 Slow moving drains are annoying, but they are generally evidence of a larger problem. If not taken care of properly, they can lead to even bigger problems. Here are the top 5 ways to prevent clogged drains:
1. Use a drain screen
Hair and soap scum are major culprits in clogging bath and shower drains. Use a drain screen to catch the debris and clean the screen regularly.
2. Don't pour grease down the drain
When you finish cooking, let the grease harden and scoop out as much as you can into the garbage, or pour the grease into a glass jar. If you pour grease down the drain it will harden in your pipes causing a congealed greasy mess!
3. Don't pour anything else down the drain
Avoid putting any chemicals down the drain. Do not use any chemicals or chemical drain cleaners, over time they can erode pipes.
4. Watch what you grind in the garbage disposal
Garbage disposals are great but they do have their limitations. Do not attempt to grind onion skins, large gobs of rice or potato peels or fibrous veggies like celery . Basically if it seems like it's not a good idea at the time.. it probably isn't.
5. Don't flush it!
Even though tampons and flush-able wipes are advertised as "flush-able" we have tons of clogged drains that prove the contrary. Many old Philadelphia houses with old plumbing lines are just not capable of flushing these items out so err on the side of caution and don't flush it!
Check out our latest plumbing posts, today. Learn about options, common repairs, installation and savings!

Call today to get on our schedule for backflow prevention testing. Once a year, the Philadelphia Water Department will send …

PECO recently announced that it will begin its pilot program to bring natural gas pipelines to neighborhoods that do not …

Cross Connections Control and the PWD are still sending out letters to remind Philadelphia commercial properties to have their backflow …