The lifespan of a typical tank type water heater is about 6-10 years. If the tank is leaking from the bottom then it is definitely time to replace your water heater. If the water is not getting hot even after some basic troubleshooting or a service call then it is probably time to replace.
We can generally replace a water heater within 24 hours, so give us a call or send an email to receive up to date pricing on a water heater replacement.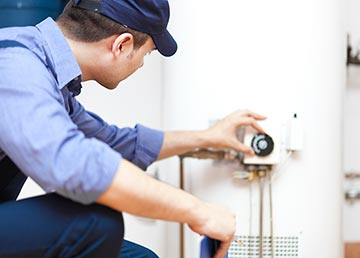 Thinking about a Tankless Water Heater?
Here are the top 5 reasons to choose one:
Endless Hot Water: Weather you are the first one up or the last one out of bed, you will always have the luxury of a steaming hot shower. Tankless models offer hot water for all!
Fewer Worries: Tankless water heaters have a life expectancy of 20 years, much longer than any conventional tank-type water heater.
Space Saving Design: Unlike traditional bulky tank-type water heaters, the tankless water heater can be mounted on a wall and can be installed virtually anywhere.
Clean Water: With the tankless model, water is heated as it passes through the unit as you need it, so you will never have to use water that has been stored in a tank.
Save Energy and Money: Your traditional water heater is heating water while you are on vacation, at work, 24/7 just waiting for you to use it. 40 gallons of heated water just sitting there sucking up energy. Tankless models only heat water when you need it saving the average household $100 or more per year.
Check out our latest plumbing posts, today. Learn about options, common repairs, installation and savings!

Call today to get on our schedule for backflow prevention testing. Once a year, the Philadelphia Water Department will send …

PECO recently announced that it will begin its pilot program to bring natural gas pipelines to neighborhoods that do not …

Cross Connections Control and the PWD are still sending out letters to remind Philadelphia commercial properties to have their backflow …