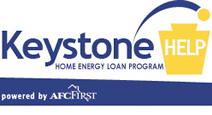 Households seeking financing for home energy projects may take part in the Keystone Home Energy Loan Program (HELP) by AFCFirst.
What is Keystone HELP?
The Keystone Home Energy Loan Program (HELP) is a Preferred Monthly Payment Plan with lower rates and longer payment terms than other types of unsecured financing. It is designed to promote energy efficient home improvements. The Keystone HELP® program has been designed specifically by AFC First and its sponosors – the Pennsylvania Treasury Deparment, the Sustainable Energy Funds and other – to provide special financing rates for Pennsylvania customers for most ENERGYSTAR home improvements and other high efficiency qualifying improvmements.
Please note that a household may receive only one Keystone HELP loan each fiscal year, which is defined as the period from July 1 until the following June 30.
Contact Us
Find out how Keystone HELP and Jack Edmondson Plumbing & Heating can help you lower your bills and improve your energy efficiency today! Call 215-427-3228 or click below:
Contact Us
Apply Online
Apply Online